Educational Programs for Schools in Canterbury and the South Island
We travel and bring our LEGO* based programs to you!  Programs we can bring to you are outlined below.
Program Cost:  $100 per hour.  Minimum 1.5 hours required for schools within 50km area.  Minimum 3 hours within 50 – 150km.  Minimum 4.5 hours for all other areas.
Other Expenses for South Island clients: Only if you are outside of our 50KM area there is small travel expense of $0.40 per KM from Rolleston to your venue (The first 50KM is free), and accommodation (excluding food) if you are further than 300km from Rolleston or require us for more than 1 day and are more than 100km from Rolleston.
Cannot find a program to suit below?  Simply contact us, tell us what you would like to achieve, and we will put together a program to suit.
VISUAL ARTS, CREATIVITY, CRITICAL THINKING, COLLABORATION

Complete Creativity

This exciting program will see students come together in a completely creative environment.  Students will have the opportunity to express their ideas through the materials provided.  It will offer opportunity for students to work both independently and collaboratively as they produce builds inspired by their imagination and unique ideas.
Various workstations will be set up each with a different theme or style or parts that will challenge students to think critically as they explore how to use the parts provided.
Time: 2 hours
No of participants per session: 120
Ages: NE – Year 8
---
---
---
Creative Expressions Through Sculptures made with Bricks 
2 eight-stud (2×4) LEGO bricks of the same colour can be combined in 24 different ways.
3 eight-stud (2×4) LEGO bricks of the same colour can be combined in 1,060 different ways.
6 eight-stud (2×4) LEGO bricks of the same colour can be combined in more than 915 million possible ways…
…what can your students do with 50 bricks or 10,000 bricks?? 
Task 1:  Students will be given 50 Bricks and 50 Plates – with a time limit of 35 minutes what can they build, how many different ideas can they come up with, how far will their imagination stretch?  This task will get students thinking outside the square, exercise their imagination, and show you their creativity.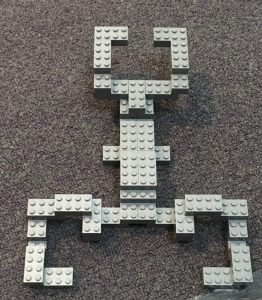 Task 2: Students are given a large box with 10,000 2×4 and 2×2 LEGO bricks to base their next, much larger sculpture with!  Students will work together in small groups of 2-4 to see what they can design in the time given.
Time: 1 hour 20 minutes.
No of participants per session: 5-30
Ages:  NE – Year 8
COLLABORATION AND CRITICAL THINKING
Strengthening Key Competencies Through Creative Team Building
Students will be set various engaging challenges that they will complete in both small and larger teams.  Students will get the opportunity in this program to see how they can combine their personal strengths and innovative ideas with others to build not just a strong brick build, but a stronger team.
Task 1: Working collaboratively in teams of 2 or more your students will plan and build the tallest tower possible using our Brick collection.  The current tower record is 3.65m and remains unbroken since it was set in 2015….will your students be the team to set the new record?!  This task will see your students contributing – and discovering – their abilities to make this activity a success.
Task 2:  Pass the Bricks – this activity will draw on the creativity within all as students build on each others designs during this activity.  As time passes with this activity students will build, pass their design on, contribute to each of their peers builds, and see their evolving creations make their way around the group.  Communication and respect is key for this activity.
Other task options available on request.  Program adapted to suit learning levels.
Time: 1 – 3 hours
No of participants per session: 10-50
Ages:  Suitable for all ages
ART, CULTURE, PATTERNS, SEQUENCING, CRITICAL THINKING.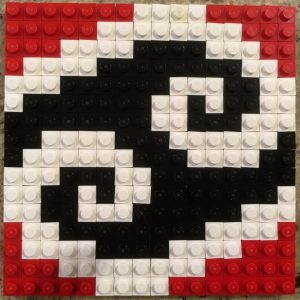 Exploring our culture through the expressions of the Koru
The Koru is an amazing part of our Māori culture and NZ history.  The Koru has a great influence on our current NZ society being represented in various ways such as modern art, business logos, and is recognised internationally as a NZ icon.  This program will get your students engaged in exploring their own interpretation of the traditional Koru.
The Task:  Students will design a Koru on a 16×16 plate using Black, Red and White (other colours can be provided if you would like to stretch the creative boundaries of the program).  Students will need to overcome the challenge of building a curve using squares, will consider patterns, reflections, symmetry, and pure creativity to complete this task.  At the end of the session you will be guaranteed a spectacular line up of designs!!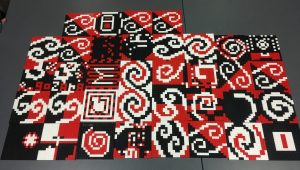 Time: 1 hour
No of participants per session: Up to 40
Ages:  Suitable for all ages.  Templates are provided for those who need guidance or inspiration.  For very young students (under 6 years of age) we recommend parent helpers or older buddies from within the school to provide support for the young learners during the program.
---
---
---
 Combining Art and Mathematics to Create  a Mosaic Masterpiece
This program is all about engaging your students to design an artful masterpiece using their math knowledge of reflection, lines of symmetry or  patterns.
The Task:  Students will design a creative piece of art on a 16×16 plate.  They will have available a wide range of colours to design a mosaic that uses any of these concepts:  ♦  Reflection   ♦    Multiple Lines of Symmetry   ♦    Patterns   ♦   Tessellation  ♦
This program will be altered to suit your learning group.
Time: 1 hour
No of participants per session: Up to 40
Ages:  NE – Year 8
LIVING WORLD, PROBLEM SOLVING, COLLABORATION
Our Natural World, Eco Systems, Animal Care & Conservation

This program will see students expressing their understanding of how the natural world works, what is in it, and how everything depends on something to survive and thrive.  
Task 1:  Gardening, Forests, and Jungles.  This activity will see students working with a unique collection of bricks to achieve this task.  The focus for this activity can vary from designing a garden area for school, to building a native forest or designing what they think a Jungle looks like.  Students will consider what lives in the environment and what those living things need and depend on to survive (eg: Pollinating insects need flowers, birds need berries, and wildlife require shelter).
 Task 2: Animals. Students will design an environment for an animal of their choice – this could be a farm animal or an endangered animal at the zoo.  Students will consider what these animals need to survive, what dangers might it need protecting from and show us their ideas on how they can improve the living environments for animals that need protecting to ensure its survival. 
Time: 1 hour 30 minutes
No of participants per session: 5-30
Ages:  NE – Year 8
TECHNOLOGY, COLLABORATION, CRITICAL THINKING, 
Exploring Technology Concepts through the use of Bricks
Experimenting with the concepts of aerodynamics, traction, friction, and engineering strength in this challenging program will see your students put their problem solving skills to the test!
You can choose to focus on just 1 of these in a session or take the time and cover all 3 with us in 1 day.  
Task 1: Experimenting with Friction, Traction and Aerodynamics – Students are given a kit to build 3 styles of vehicles.  Through racing them, altering, combining parts, and working with the kit to get the best possible vehicle will see the students using their problem solving skills to develop the best working wheeled vehicle in this program while overcoming the limits of these concepts. 
Task 2: Engineering a Bridge – Students will work with a buddy to design a bridge that will be strong enough to bear weight as it spans over 2 chairs – with no supports to the ground!  LEGO is an incredible tool that can be used to explore the concepts and engineering behind bridge building.  Students will build, test, and refine their models. 
Task 3:  Strength in Height – This program is all about student collaboration to figure out how to build a tower as tall as possible in a 30 minute time limit.  It is possible to reach 3.65m in this time!  It will take collaboration, communication, and persistence to achieve this.  There are many ways to build strength with LEGO – how will your students tackle this challenge?
Time: 35-60 minutes per task
No of participants per session: 35
Ages:  NE – Year 8  (Activities will be adapted to suit learning levels attending)